More than 50 years ago, the first Chevrolet Impala sedan rolled off the line at the General Motors plant in Lordstown, Ohio. Now GM has announced it will end production at the plant. More than 1,500 people will lose their livelihoods.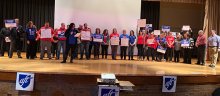 Local residents are stuck waiting to see what happens next. Already, more than 2,500 jobs have been eliminated at the plant over the last two years, cutting it down to one working shift. Those who remain aren't sure whether the plant will be idled temporarily and then retooled to produce a different GM product, or the doors will be closed for good.
Labor, business and community leaders are urging GM to reverse its decision and repurpose the plant to produce a different GM vehicle. The AFT, the Ohio Federation of Teachers, the Lordstown Teachers Association, the school district, and business and community groups are working closely with the United Auto Workers to save the plant. They gathered at Lordstown High School for a town hall meeting on Jan. 24 to bring attention to this crisis.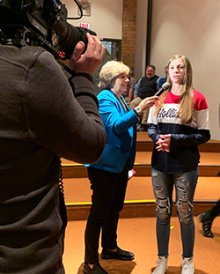 "GM's threat to close Lordstown was a shock to our union," says AFT President Randi Weingarten. "Families are worried sick about someone in their family losing a job, about how they'll survive. We know what those numbers mean for our families and the children we teach. When major employers like plants or factories close down, the effects of those job losses are felt across the community: Services are cut. Wages stall. Families have to cut back. And poverty has a direct impact on student achievement. Academic opportunities and social-emotional learning can all be affected by the economics happening where they live."
Mindy Moyers is an AFT member and reading intervention teacher in Lordstown public schools. Her husband is counted among those remaining 1,500 GM employees. "Our lives are in limbo," says Moyers. "We're waiting to see what happens. It's hard to decide what's going to be the best thing for your family when you can't be sure what's going to happen."
Her husband has worked at GM for 23 years. Now they're trying to decide whether he should put in for a transfer to a different facility, or go back to school to learn a new trade. They have three kids.
Moyers worries about her own job. The idling or closure of a plant doesn't just hurt the employees and their families; it affects the entire community, and businesses across the region will suffer. There are the suppliers who provide components to the plant, the restaurants that feed the workers, the gas stations where they fuel up, and the grocery stores where they buy their food. Families are already moving away from the neighborhood served by Lordstown Elementary, where Moyers works. With fewer kids in school, she fears what this will mean for teachers' livelihoods.
Tiffany Davis is also scared for what's next. She's taught fifth grade at Lordstown Elementary for 10 years. "This will be catastrophic for my family," Davis says. "Many of our students' families are transferring. They're leaving our school district in droves. I'm concerned what it will mean for my job. On top of that, my husband works at GM."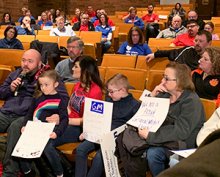 Davis' husband has worked at the plant since it was his first summer job when he was in high school. He's been there more than 17 years, while he and his wife built a home and a life, and had two children. Like the Moyers family, they're also considering whether he should apply for a transfer to a different plant, an uncertain proposition that would uproot their lives.
"I'm in a teaching contract, so I can't leave with him," Davis says. "My children would have to stay here with me, and I'd have to run my household as a single mom, while he's working elsewhere. Not to mention, we'd have two sets of bills to pay until my teaching contract runs out. It's a scary proposition."  
"GM made a commitment to this town and other towns as part of getting a bailout in 2008. This town needs these jobs," Weingarten says. "Those people who made those cars, who created those profits, we need you to stay in Lordstown."
Moyers has hope that the community's effort to draw attention to the closure will change GM's plans.
"I'm hoping someone in Detroit in GM will take notice," Moyers says. "It's not just about numbers and business; it's about people who have invested their time and life with this company. I want them to see how this is touching this entire community of Northeast Ohio."
You can speak up for your union family affected by the closure in Lordstown: Send a message to GM to reconsider its decision.
[Elizabeth Sell]